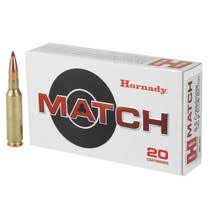 Hornady 6.5 Creedmoor 140gr ELD-Match 20pk
Details
We carefully select every component to ensure uniformity, then load to exacting specifications to provide pinpoint accuracy. Each cartridge is loaded with either Hornady A-MAX bullets, our high-performance boattail hollow points, or the new, radically superior ELD Match bullets. Stringent quality control ensures proper bullet seating, consistent charges and pressures, optimal velocity, consistent overall length and repeatable accuracy.
THE PERFECT TIP
The Heat Shield tip on the ELD Match bullet creates the perfect meplat and outperforms BTHP bullets.
HORNADY MATCH BULLETS
Hornady Match rifle ammunition is loaded with the most accurate, consistent match bullets in the world, featuring our AMP bullet jackets.
SPECIALLY SELECTED CASES
Cases are carefully selected based on strict criteria: wall thickness uniformity, internal capacity, case weight and consistent wall concentricity.
CAREFULLY MATCHED POWDER
Powder is matched carefully to each specific load for optimal pressure, velocity and consistent accuracy.
STRINGENT QUALITY CONTROL
With extremely tight tolerances and strict quality control, all Hornady Match ammunition features superior lot-to-lot consistency. From the bullet seating to the optimal charges and velocities, Hornady Match ammunition is designed to live up to company founder, J.W. Hornady's original goal: Ten bullets through one hole.